Welcome to the second edition of knowing the 2017 NFL Draft class! Today we will meet the quarterback who may become the starter for the Chicago Bears after Jay Cutler's retirement. The only thing stopping him is veteran quarterback Mike Glennon who may win the job due to his experience. For now, let's meet the former Tarheel and see what sets him apart.
​


---

College Stats:

Yards- 3,748
Completion Percentage- 68.0
Touchdowns- 30
Interceptions- 6
​QB Rating- 157.9
Starts- 13
​
*All from junior year at University of North Carolina-Chapel Hill.


---

Hopefully he can impress the team during training camp going on now! See you soon!

In honor of training camp beginning tomorrow for some teams, it's time that we are introduced (or reintroduced) to our new class of rookies.
​Let's start with the first pick of the Draft, the defensive end who can hopefully help out the Browns this year!



---

College Statistics at Texas A&M:

Sacks- 31 total (11.0, 11.5, 8.5)
​Solo Tackles- 81 (26, 37, 18)
​Assisted Tackles- 60 (23, 22, 15)
​Total Tackles- 141 (49, 59, 33)
Forced Fumbles- 7 (0, 5, 2)
​
*Note: Garrett was limited in his last season due to an ankle injury.

---

Need to know even more about the person off the field? Then read this piece written by his own father about who Garrett really is. It's definitely worth the read and gets you ready for a new season.

---

Hope you enjoyed learning about who Myles Garrett is as a player and person and remember to look for him this season on the Browns! More rookies will follow soon!
Powered by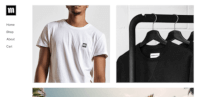 Create your own unique website with customizable templates.
Photo used under Creative Commons from Gerry Dincher