Take a journey on a jet through pictures that explain what the Jets are all about.

The Jets' lone Super Bowl appearance and win was in 1968 for the AFL-NFL Super Bowl Championship.

Did you know?
​Both Seahawks coach Pete Carroll and Patriots coach Bill Belichick have something in common: they both have been a head coach for the Jets.
The funny thing is, Carroll only lasted one season while Belichick lasted one day. He resigned the day after he was chosen as head coach with a note written on a napkin and then went to coach the Patriots.

Tom Brady can thank the Jets for his career because on September 23, 2001, Jets linebacker Mo Lewis

tackled starting Patriots quarterback Drew Bledsoe and gave him internal bleeding

. The quarterback who took over? Tom Brady of course! And he hasn't left since (even though he'll be gone for 4 games this season...)

Jets played in 2 stadiums with the New York Mets: Polo Grounds and Shea Stadium.
Both can be seen as similar teams because they are the younger 'sibling' of a famous New York team in their sport.

As you can see, the Jets have 5 players that spent most of their career with the team in the Hall of Fame. The number is not too bad since there are still young teams out there that have none and the Jets suffered through some tough years after their lone Super Bowl appearance. Maybe someday they will return to the Super Bowl and add some more Hall of Famers. We can only hope for now.

This video is pretty perfect because it shows the reaction over and over and over and over again (don't think I got the right number of over's but you get it). I just love the reaction and this past season was decent for the Jets with Fitzpatrick as quarterback but they still need work to get there.

I definitely recommend watching all of this because it makes fun of Jet fans booing everything but it's all in good fun. It's very funny in how it represents Jet fans and I enjoyed watching it.
Powered by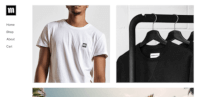 Create your own unique website with customizable templates.
Photo used under Creative Commons from Gerry Dincher